6

min readDDI Micro Magic Cart
The Project
Today we'll explore the depths of the DDI dungeon to see what precious gems can be found. Among the beatiful creations by DDI, I've come across one that deserves particular attention.
Its name is the MicroMagic Cart, a cool miniature edition of the Magic Cart that offers multiple configurations with dual image support.
The story starts from the desire to create a cartridge thin enough to fit within a small Hi8 tape case, which is only slightly larger than an audio cassette case.
It was hard to believe that a cartridge complete with thick acrylic shells could fit in a Hi8 case that is only as think as a typical CBM cartridge.
As we'll see, the MicroMagic Cart design achieves this goal with a perfect fit that not only protects but is also transparent to display this beauty inside.
It's not just beautiful, as with many projects by DDI, the MicroMagic Cart is designed to offer several configuration options for creating a perfect cartridge that matches the image size and type desired.
The MicroMagic Cart supports a 512KB ROM for implementing dual 256KB banks, selectable via an ultraminiature LED toggle switch, used to choose between one of two 256KB images, combinded and comprising a single 512KB binary file. However, a toggle switch is not required for the Micro Magic Cart to function as a single image cartridge.
With the toggle switch positioned at the top of the PCB, a simple right angle pin header can be used instead for an economical build.
Another nice feature is a jumper position to assert EXROM for use with Ocean images or hybrid Magic Desk images, as well as another jumper for selecting ROM size, either 28 Pin for a 32/64KB ROM, or 32 Pin for 128/256/512KB ROM. An ultraminiature LED pushbutton switch is used to reset the system back to a multicart menu or to reset a single game image, which saves the system needless stress caused by turning off and on the C64.
The switches are positioned perfectly such that when fully assembled, the actuators extend off the top right edge of the cartridge, and are easy to find and use.
A really nice feature, unique to several of the DDI Magic Cart variants, is a Loader LED that illuminates at the end of a program load with an eye catching double blink effect, which serves as a handy indication of when the cartrdige ROM has been turned off. The MicroMagic Cart implements the Loader LED within the NKK ultraminiature pushbutton switch.
For an economical build, a NKK non-LED pushbutton switch can be used instead, where there are via postions at the upper left for either an SMT or 3mm LED, as an alternate location for the Loader LED. We love options!
Hardware Features
The PCB is very small, and offers subtle catches as the top side edges of the PCB to allow for easy removal of such a small cartrige.
Designed with an overall cartridge height of 15mm to fit within the tight space of a HI-8 case.
Let's see the TOP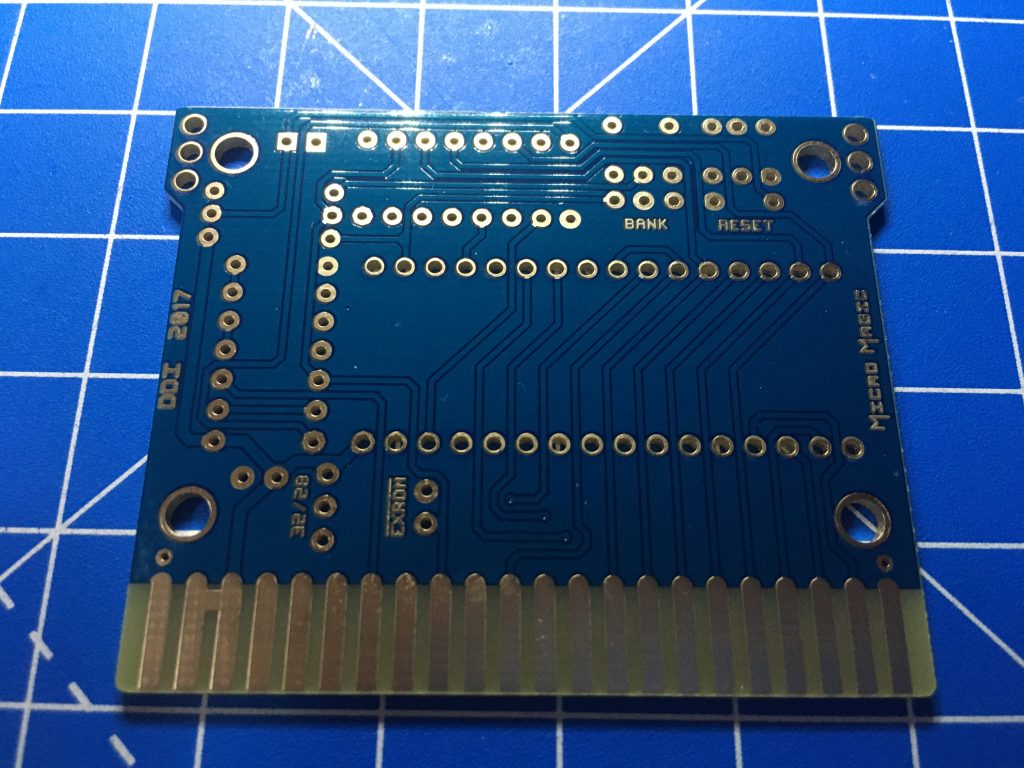 And the bottom of the PCB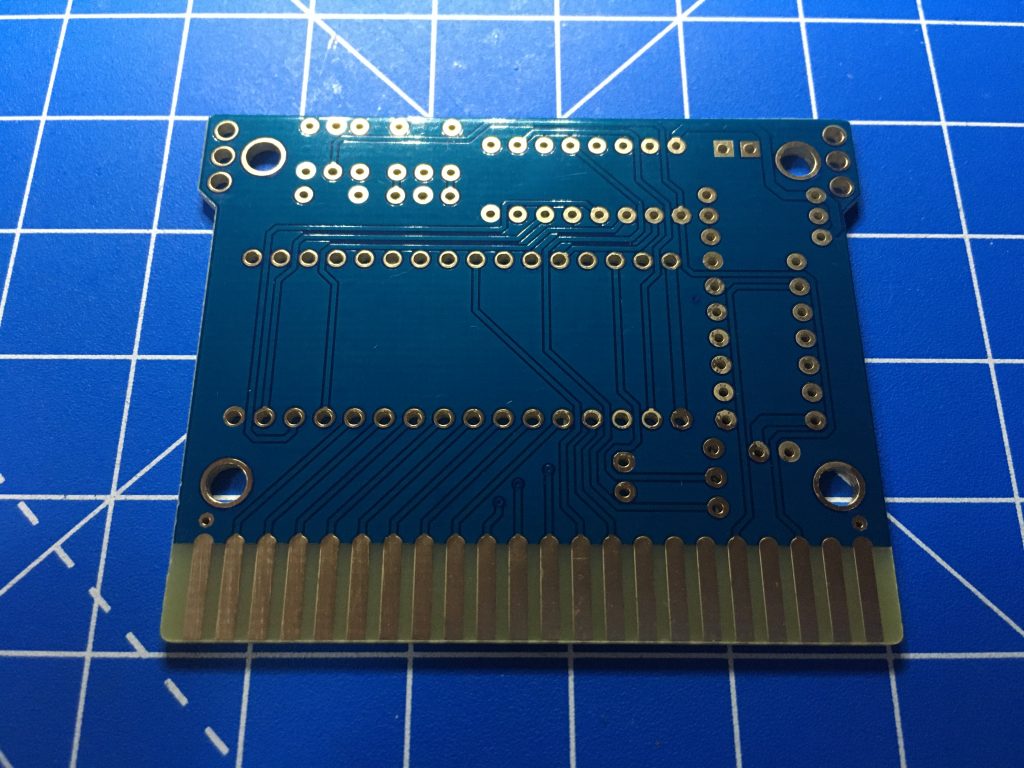 As you can see it's a really concise piece of artwork. I like the clean routing of all DDI designs, with the MicroMagic Cart being no exception, and with blue masking and an ENIG finish, it's a really sharp PCB that makes for a tiny cartridge rich with features.
The components are the usual ones for the DDI Magic Cart projects, Philips 74HCT174 and a 74HCT02 besides military grade resistors as well as ultraminiature switch from NKK. Designed in 2017, the gold DDI and MicroMagic logo looks great, with labels for 28/32, EXROM, BANK and RESET etched in ENIG as well.
Designed for use with acrylic for shells, there are 3.2mm vias in the four corners of the PCB. DDI offers acrylic shells and quality brass mounting hardware as well, with a spot laser etched on the top acrylic piece for a cartridge label.
The MicroMagic Cart is a in a word, exquisite. Quality hardware, excellent components and layout in a tiny form factor, all in a unique HI-8 full package design, implementing military grade Vishay and ultraminiature NKK LED switches and looking absolutely gorgeous in acrylic … what's not to love?!
On to the Project Build
After giving it a good bit of thought, i decided to create a single game image for use with this cartridge, something that I really enjoyed in my youth, BC's Quest for Tires.
Playing Quest for Tires was a real milestone in my childhood, playing with my father on a long long table (everything's bigger for a child eheh), with a green tablecloth in front of a 20″ CRT TV, which belonged to my grandma. On the table was only the Commodore 64 and a classic 1530 tape drive with its endless counter, and of course a QuickShot joystick, one of my first ones. Our afternoons passed so fast with BC and his wheels, jumping the stones, jumping the holes, crouching below the trees and bouncing over the turtles 🙂 It's a wonderful childhood memory that deserved to be on a cartridge.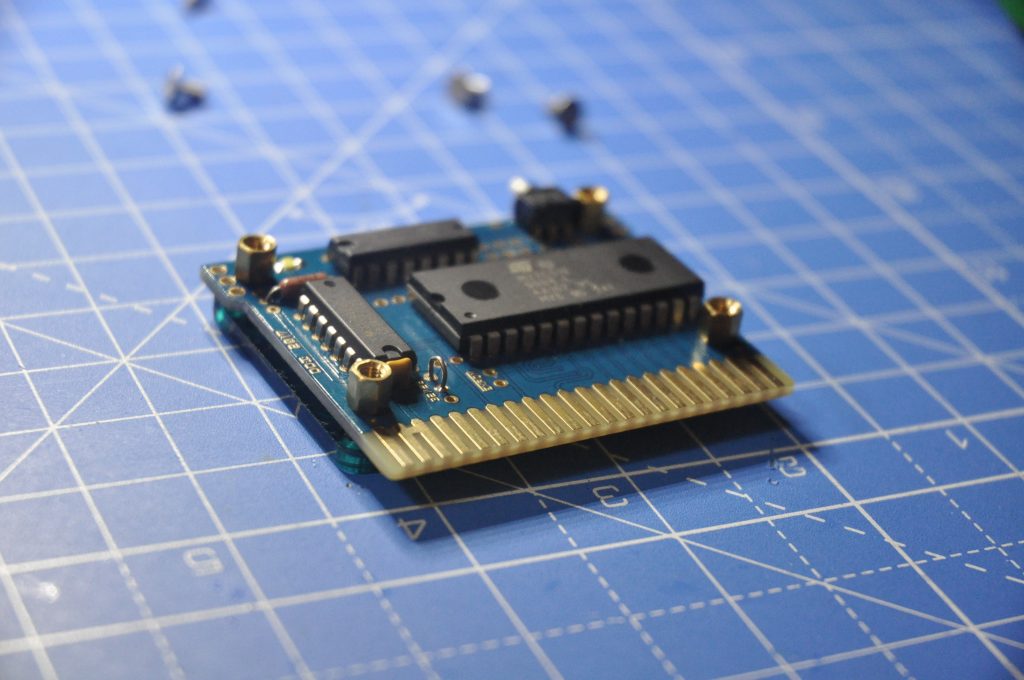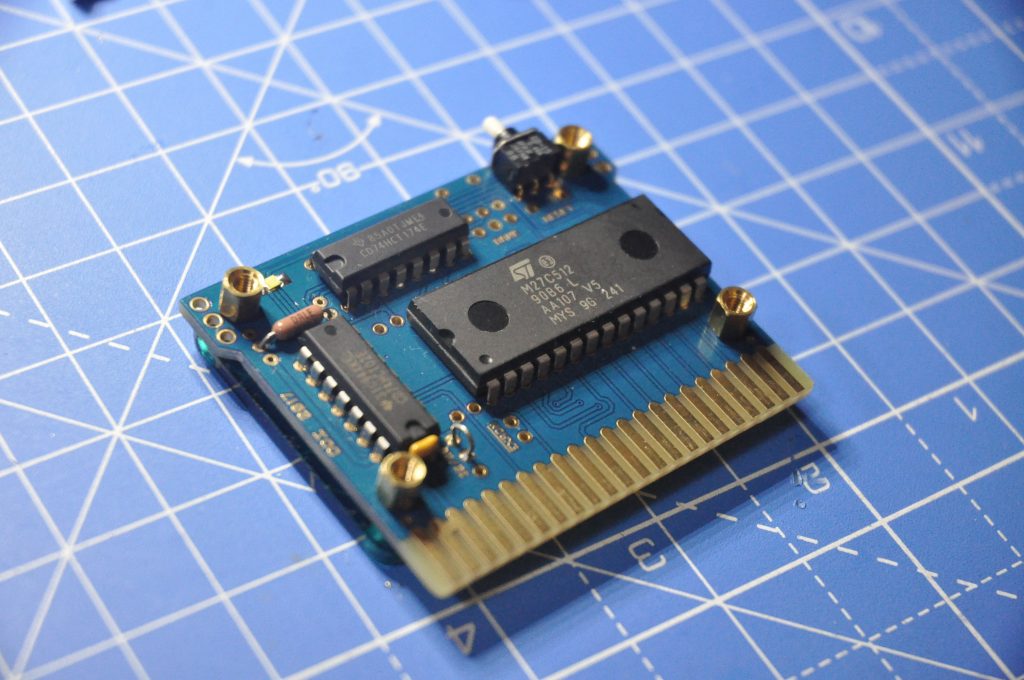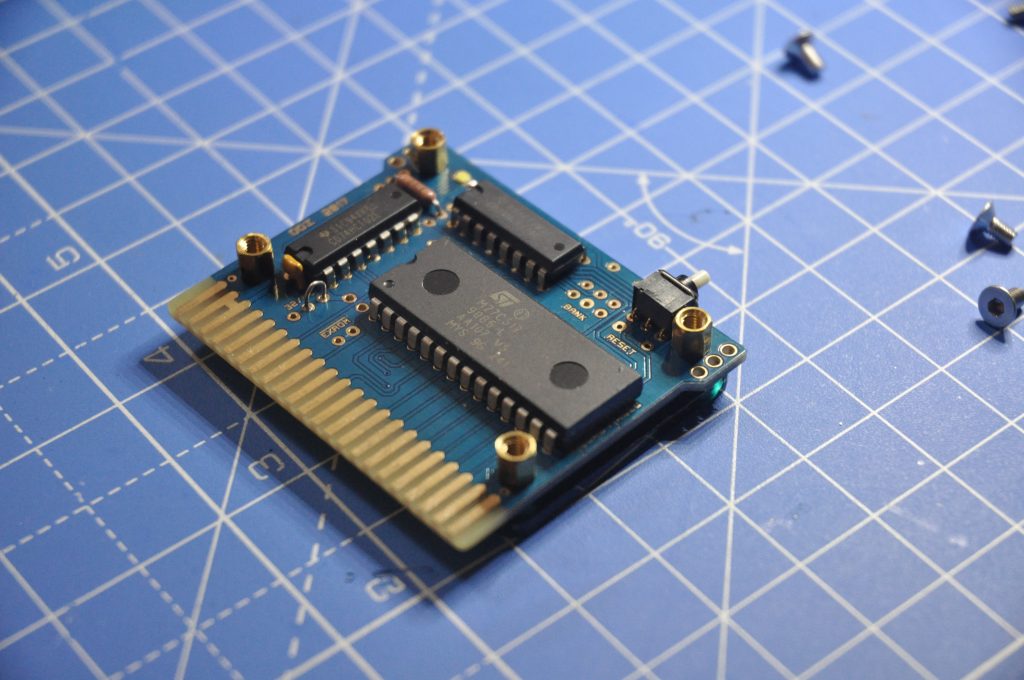 The pictures show the board already mounted on acrylic, where the top has been removed to show the components on the assembled PCB. Since I prefer an SMT LED for this build, I've chosen
to install a non-LED pushbutton Reset switch, so the SMT LED will work best and not have to split current with a switch LED. The PCB, an acrylic kit, along with Vishay resistors and mounting hardware arrived directly from DDI :).
The acrylic base and top pieces comes laser cut and etched, with mounting holes already countersunk for use with flat head screws. Some shinny hexagonal brass supports are provided,
adding a nice bit of weight and quality to the cartridge build. Below is a picture of the finalized cartridge complete with a wonderful final touch of a sweet BC badge 🙂 (Thanks Marco!)
And at the end, the realization of a perfect build: a gorgeous MicroMagic version of BC's Quest for Tires, all in a HI-8 case with internal support for the MicroMagic Cart,
done the same way DDI has, keeping true to the DDI design.
The Micro Magic Cart is a project that perfectly reaches the goal to be a sleek and stylish, versatile, multi-configurable and concise high calibre cartridge for the Commodore 64.

It's another real gem of a cartridge by DDI. Hope you enjoyed this presentation guys. Thanks DDI for all your support!
DDI MicroMagic Project
Page: http://www.sys64738.net/ddimc/ddimmc.htm
Dungeon Dwellers Inc sysop@sys64738.net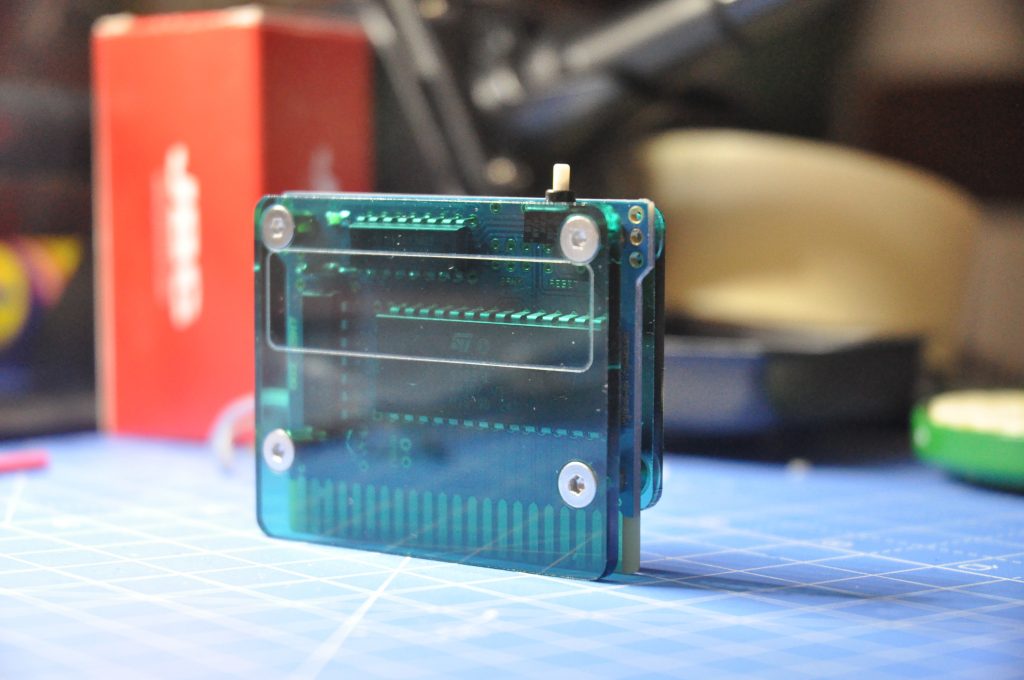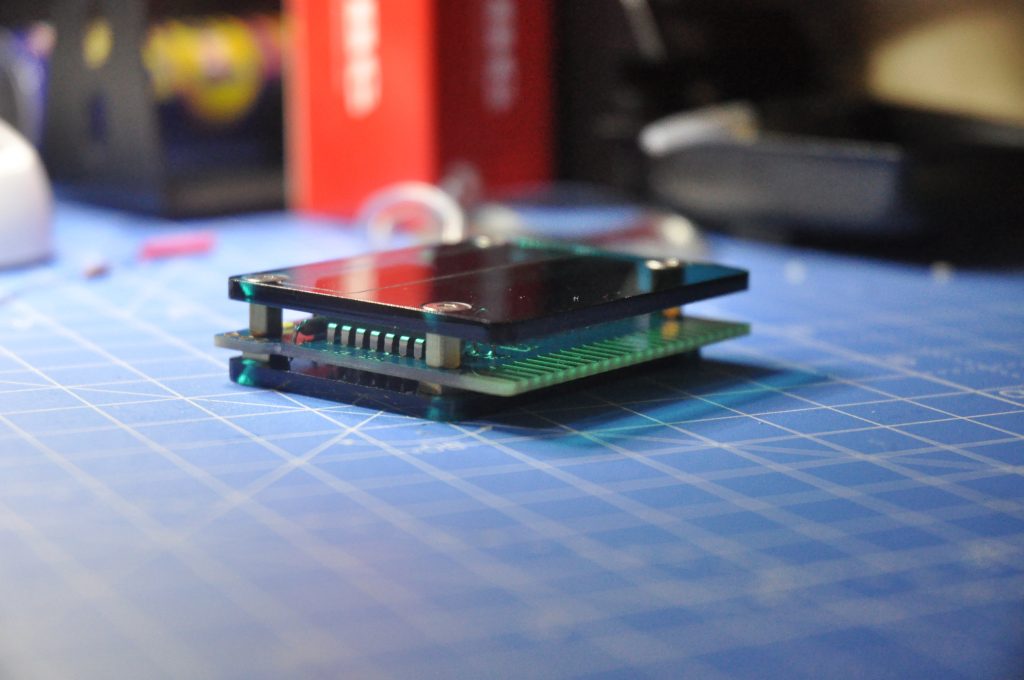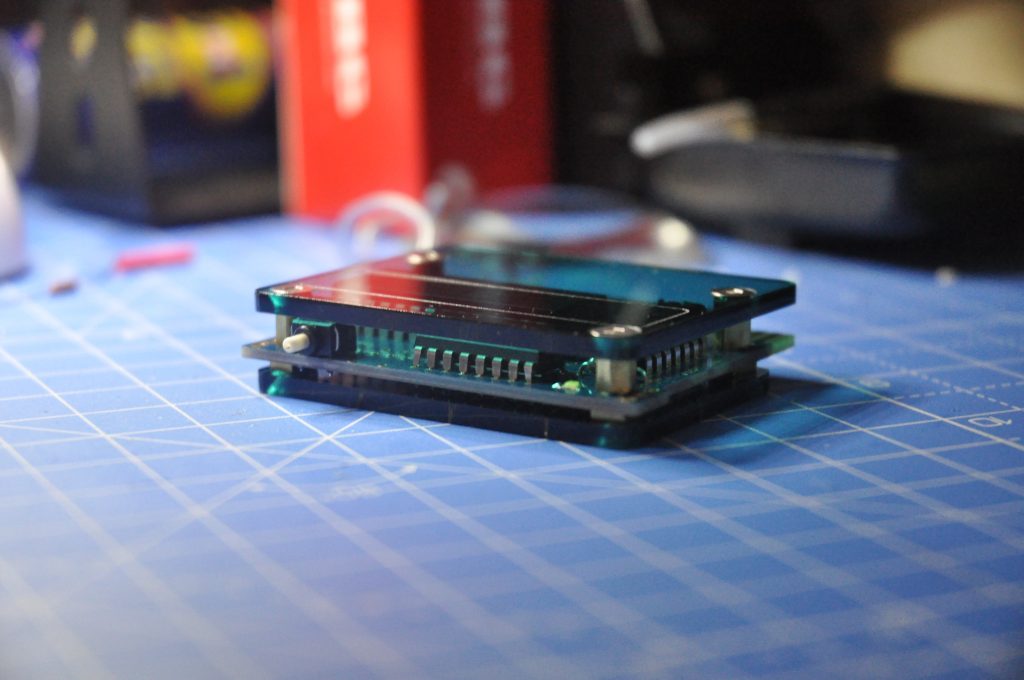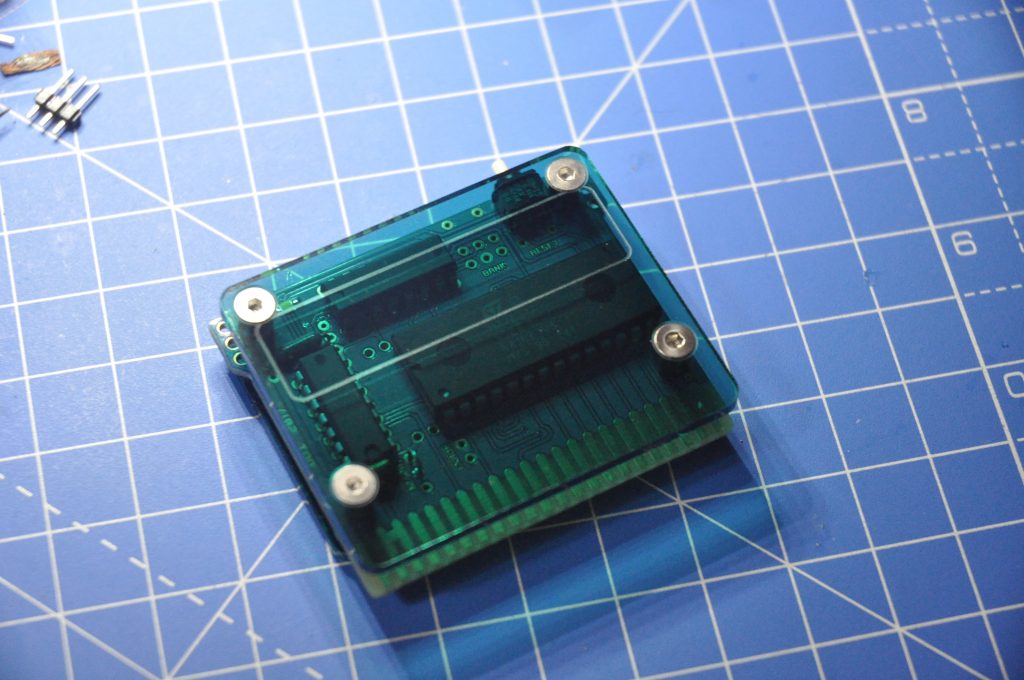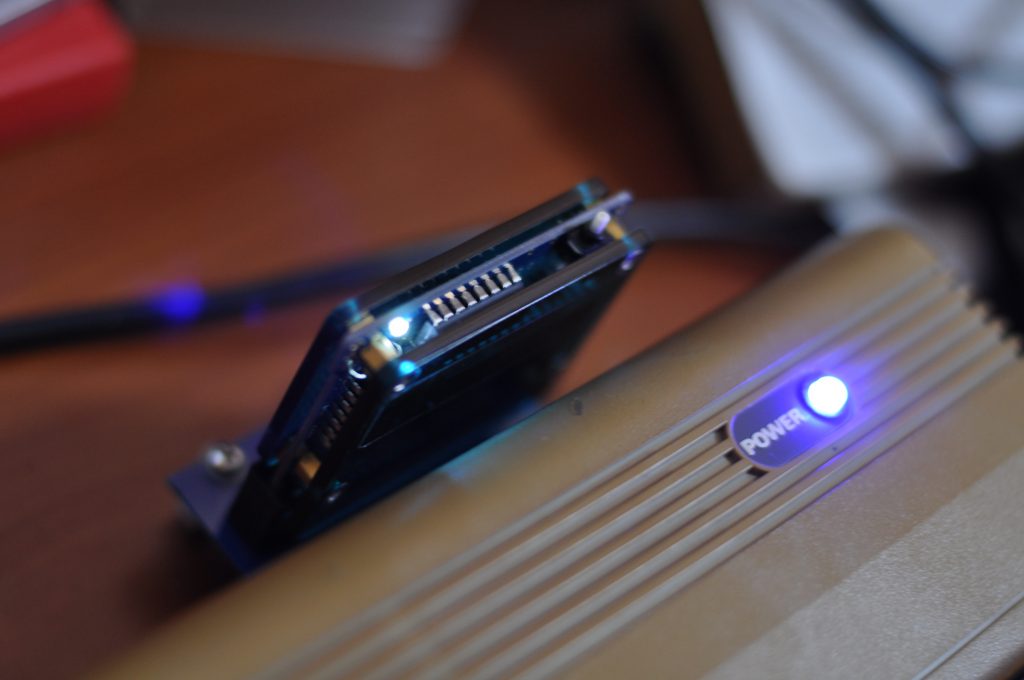 This work is licensed under a Creative Commons Attribution-NonCommercial-NoDerivatives 4.0 International License.